Your Ultimate Bolinao Travel Guide 2023
From Tourist Spots, Maps, Where to Eat, Transportation, Entrance Fees, Tour Guide Contacts, FAQs, and More, plan your perfect trip.
Tourist Attractions in Bolinao
Bolinao has it all, from beautiful beaches to enchanting caves and historic sites. It's a paradise for every traveler. Here are some places:
1. Patar White Sand Beach

Enjoy the white sand, swim in the clear water, and see the beautiful sunsets.

2. Cape Bolinao Lighthouse

Visit an iconic historic lighthouse with breathtaking views of the coastline.

3. Bolinao Falls 1, 2 & 3

Swim in waterfalls and natural pools in lush greenery. Perfect for a relaxing swim and a peaceful picnic.

4. Enchanted Cave

Explore a mystical cave with clear pools and captivating limestone formations.

5. St. James the Great Parish Church

Visit this historical church with Spanish colonial architecture.

6. River Village Resort and Restaurant

A peaceful riverside retreat with lovely views, tasty local food and fun activities.
Use the map and click on the location for directions, information, and pictures.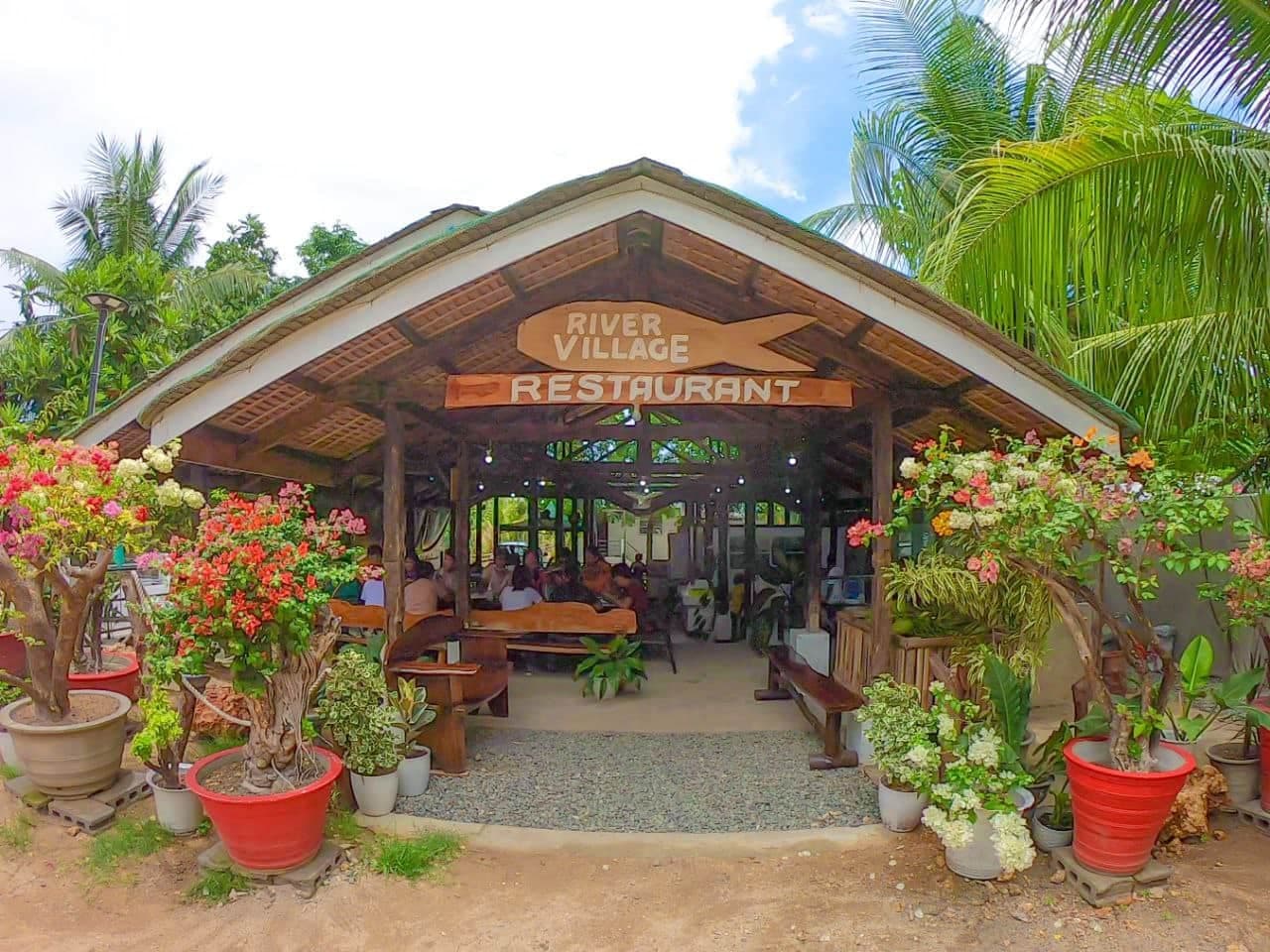 Where to Eat in Bolinao: River Village
Located near Patar Bolinao, River Village Resort is the top choice for an amazing experience. We offer a beautiful blend of nature and delicious food.
Nature Access

Dine-in customers have free access to beautiful river and beach views, perfect for group photos and quality time.

Private Dining

Enjoy private cottages and treehouses for intimate dining experiences.

Food Choices

Delicious food with lots of choices, great for larger gatherings.

Fun Activities

Elevate your dining experience with activities like kayaking, fish feeding, and fishing.
How to Get to Bolinao
Getting to Bolinao is relatively straightforward, with transportation options available from various starting points. Here are the routes to Bolinao from different locations:
From Manila

Travelers from Manila can conveniently take direct buses to Bolinao from various bus stations such as Victory Liner, Five Star, and Dagupan Bus.

From Baguio

Travelers from Baguio also have the convenience of direct to Bolinao at the Partas bus station. An alternative is to locate a bus heading to Dagupan City, where you will have access to bus stations like Victory Liner, Five Star, and Dagupan Bus, which provide routes to Bolinao.

From North Luzon

For travelers from North Luzon (Ilocos Norte, Ilocos Sur, and La Union), the journey begins by taking a bus to Dagupan City. Once in Dagupan City, you can find bus stations such as Victory Liner, Five Star, and Dagupan Bus offering routes to Bolinao.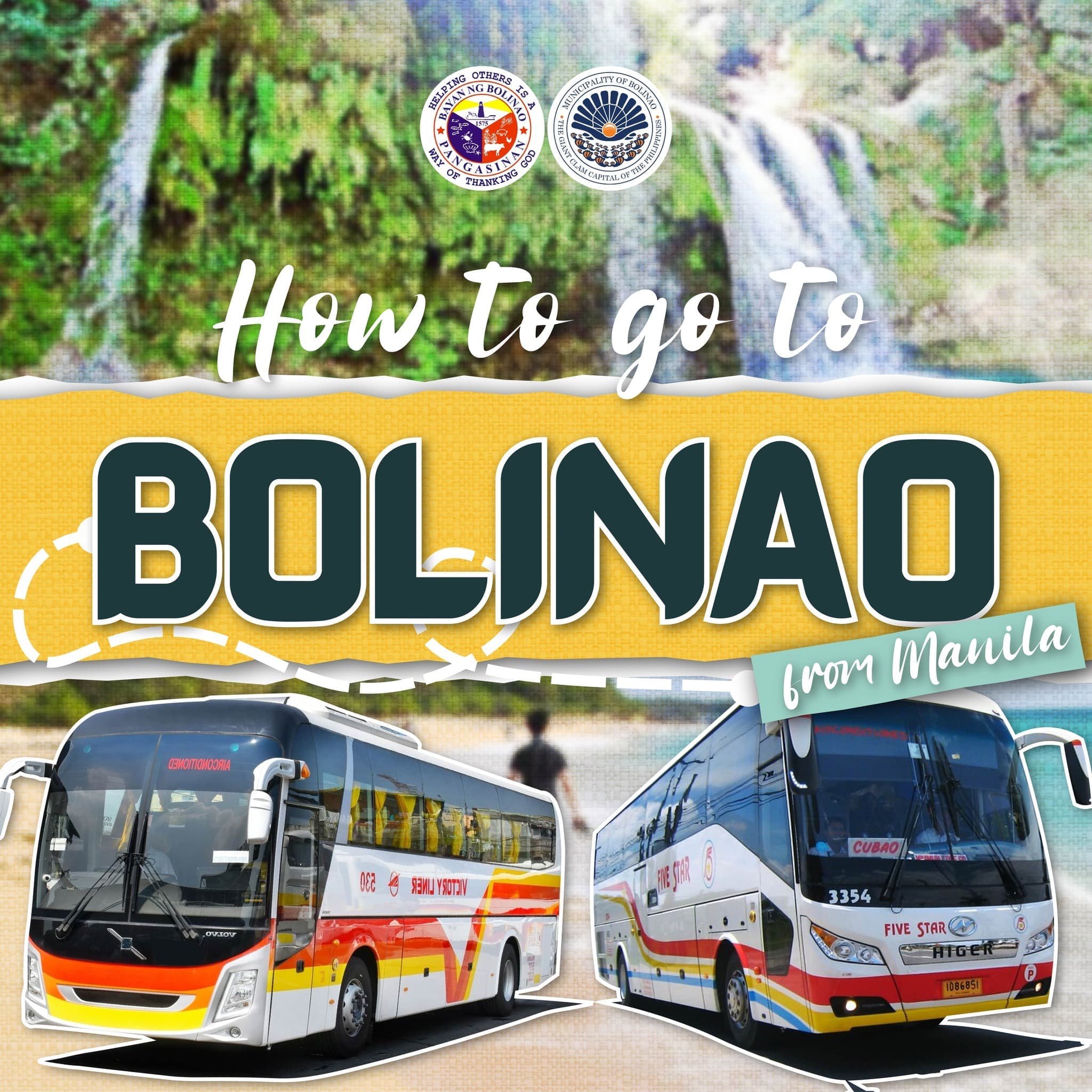 Photo from: Bolinao Tourism Office
Entrance Fee and Other Charges
For a complete experience in Bolinao, it is important to be aware of entrance fees and other charges at various attractions. Here is what you need to know:
Patar Beach

Entrance: FREE

Cape Bolinao Lighthouse

Entrance: FREE

Enchanted Cave

Entrance: ₱200 - ₱250

Wonderful Cave

Entrance: ₱100 per person

Cindy's Cave

Entrance: ₱100 per person

Bolinao Falls

Entrance: ₱30

Saint James Parish

Entrance: Free
Note: The PHP 40.00 entry fee is mandatory for each tourist attraction. This fee covers multiple sites over 4 days. Your initial ticket and receipt work for all attractions. Simply present them on subsequent visits.
Tricycle Tours
Exploring Bolinao is easiest when you hire a tricycle with a local driver. Discover Bolinao's beauty with easy and affordable tricycle tours:
To Resorts

₱250 or ₱62 per person (up to 4 persons)

Guided Tour

₱1,200 - ₱1,500 or ₱300 - ₱375 per person (up to 4 persons)
What to Buy in Bolinao
Bolinao offers a variety of souvenirs and local treats to take home.
Bamboo Cake (Benungey)

Where: People's Market Bolinao

Dangit / Daing (Dried Fish)

Where: People's Market Bolinao

Souvenirs

Where: Bolinao Lighthouse
Bolinao Tourist FAQs
Patar White Sand Beach
What is Bolinao Patar Beach known for?
Bolinao Patar Beach is renowned for its white sand, clear waters, unique rock formations, stunning sunsets, and proximity to the Patar Lighthouse, offering a relaxing and culturally rich beach experience.
Bolinao Falls
What can I expect at Bolinao Falls 1, 2, and 3?
Bolinao Falls 1 is the tallest of the three falls with a deep catch basin ideal for swimming, Bolinao Falls 2 offers a wider basin for a tranquil experience, and Bolinao Falls 3 combines the best of both, being less crowded than Bolinao Falls 1 and featuring a broader basin than Bolinao Falls 2, allowing visitors to choose their preferred experience.
Cape Bolinao Lighthouse
What is the Cape Bolinao Lighthouse known for?
The Cape Bolinao Lighthouse is known for its historic significance and the panoramic coastal views it offers to visitors. It was built in 1905 by a trio of American, British and Filipino engineers. it is the second highest lighthouse in the Philippines next to the Cape Bojeador Lighthouse.
The Enchanted Cave
Tell me more about The Enchanted Cave in Bolinao.
The Enchanted Cave is famous for its unique and captivating natural beauty. This cave is renowned for its crystal-clear underground pool, Visitors are drawn to the cave to experience its enchanting atmosphere, go swimming, and explore its striking rock formations, making it a popular tourist attraction.
Why is it called 'The Enchanted Cave'?
The Enchanted Cave in Bolinao, Pangasinan, is named for its mystical and enchanting ambiance, created by the unique underground pool. The name 'Enchanted Cave' reflects the sense of wonder and magic that visitors experience when exploring this natural wonder.
St. James the Great Parish Church
How old is St. James the Great Parish in Bolinao?
The Saint James the Great Parish Church in Bolinao was built in 1609. As of 2023, the Church is approximately 414 years old.
What is the history of St. James the Great Parish?
The history of the St. James the Great Parish Church is rich and dates back to the Spanish colonial period. It has served as a place of worship and has undergone various renovations and preservations over the centuries. The church's architectural charm and cultural significance reflect the enduring heritage of Bolinao. It continues to be a place of religious importance and a symbol of the town's history.
River Village Resort and Restaurant
What sets River Village Resort apart?
We create a special experience by blending nature's beauty with delicious food. Dine-in customers get free access to the stunning river and beach. We also have private dining for intimate moments, and there are fun activities like kayaking, fishing, and more to make your visit truly memorable.
Do you have rooms available for overnight stays?
At this time, we don't have rooms available. However, we provide camping as an alternative option.